We are learning about Germany this week. We made some cookies.
I liked Engelsaugen (Angel Eyes). They are cookies with a hole in the middle and they have blackberry jam in them. They are supposed to have raspberry. If you want the recipe, let me know.
Yesterday we made Lebkuchen. I liked it, it is a gingerbread type cookie. Mommy used a scale, because the recipe she has used weights.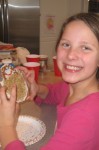 We also made German Rye Bread. That was yummy, but I was not fussy about the seeds.
I want to do more international cooking. Daddy wants us to do China next week!